Biblical Studies Carnival 153 - Cold Entertainment
"power is an object of critique, and critique a means to attain power"

1
Week 1... to Nov 6
Zeal to promote the common good, ...2
Don't miss the political tent. Oh No. Is there no other tent on the carnival grounds? Is every act of reception of the Bible a
political act
? (via James McGrath) Here's a distant view on the
body politic
from Jim Gordon, posted independently of the prior link. James also shared this
choice
from the NYT.
The Political tent of TNK
... Civility, wholesome Laws,learning and eloquence ...
Pomegranate in razor wire
Via Jim Davila, an ancient political choice,
Was Jeroboam pagan or yahwist?
The will to power via knowledge, Prof. Carol Meyers on
The Shunammite woman and patriarchy
Like us or not? Bosco Peters
has a series on disagreeing with the bible
.
Mark Goodacre' colleague, Marc Brettler,
reflects on Torah as the tree of life
.
Deception to get attention to a cause, Daniel Falk on
Dead sea scrolls are a priceless-link
.
Noted also by Michael Langlois
De faux rouleaux au Musée de la Bible
.
Rivka's questions and our own building lessons
via Rachel Barenblatt.
Protection schemes from Bob MacDonald, your host,
in 1 Samuel 25
, illustrating the law of brotherhood.
Moshe Blidstein on oaths while holding a Torah scroll -
politics and God
.
Wondering about the history of the usage of political? Here's a contribution this month Colin Maccabe and Holly Yanacek,
from OUP
.
The NT Political Tent
... bridled and restrained from outrageous behaviour, ...
What is the most important lesson the early church learned from Jesus
? from Andrew Perriman.
Jim Gordon on stones.
I will also give that person a white stone
.
Phillip Long on
A warning against too much wealth
.
Andrew Perriman on "geo-political realignment"
here
, and the presence of
hell
.
From Biblical Studies online,
Female disciples in early Christianity
Candida Moss on
anti Semitic use of bible
.
From Larry Hurtado
Terminology and its effects e g scribes-vs-copyists
.
Via Jim Davila, Aren M. Wilson-Wright on Politics begins in childhood with the
abcedary
.
Jim West reviews
Lukas Bormann's New Testament Theology
.
---
Weeks 2-4
TNK
... enabled to inform and reform others...
Jacob's Dream
by Aert de Gelder 1710-1715
A review of
Kings, Subjects, and the Divine: Politics in the Hebrew Bible
by Moshe Halbertal and Stephen Holmes by reviewer, David Polansky.
James Pate reviews
Creation and Doxology, The Beginning and End of God's World
.
Airtonjo on
Research in the Pentateuch
.
Baruch Schwartz asks, Can one do
source criticism of a dream
?
Jones F. Mendonça notes the
peculiarity of day 2
.
Rachel Barenblatt speaks with
the voice of Eden
.
Zilla Eschel on
Paying with shekels of silver
.
Bob Ekblad on
Strangers and Aliens
.
The Hebrew Language Detective on
Bavel
.
Henry Neufeld on the
value of Pi
.
Via Jim Davila, a
meteor blast for Sodom
?
John Martin's 'Destruction of
Sodom and Gomorrah,' 1852
A podcast with Kyle Greenwood via James McGrath on
Genesis 1 and 2
.
From BAR,
how to make a mud-brick
.
Moshe Sokolow on
Adam vs Nephesh
, an interesting twist, subject to testing and verification. Dualism in TNK?
Albert Baumgarten on the
textual issue in Esau's kissing of Jacob
.
A leaf from T-S A43.1,
one of the Genizah's serugin manuscripts,
how to read a shorthand Bible Jer 27.
William Whitt introduces
a new translation of Samuel
. Full text is online
here
.
Micah and
Defense Spending
, Jim Gordon on Hans Walter Wolfe.
This
newsletter from Cambridge
on the Genizah fragments was noted by Jim Davila.
Tim Bulkeley on
Jesus as a false prophet
according to Zechariah 13:6.
Heavy
sheep
from Tim, the shepherd, on Isaiah 53. (Phil Long has some
wolves
to add to these.)
Statutes that were not good
, Oliver Achilles on Ezekiel 20.
A final
status report
from your host on his completed draft English libretto for the music of the te'amim. Another Robert has also completed his Bible as noted
here
.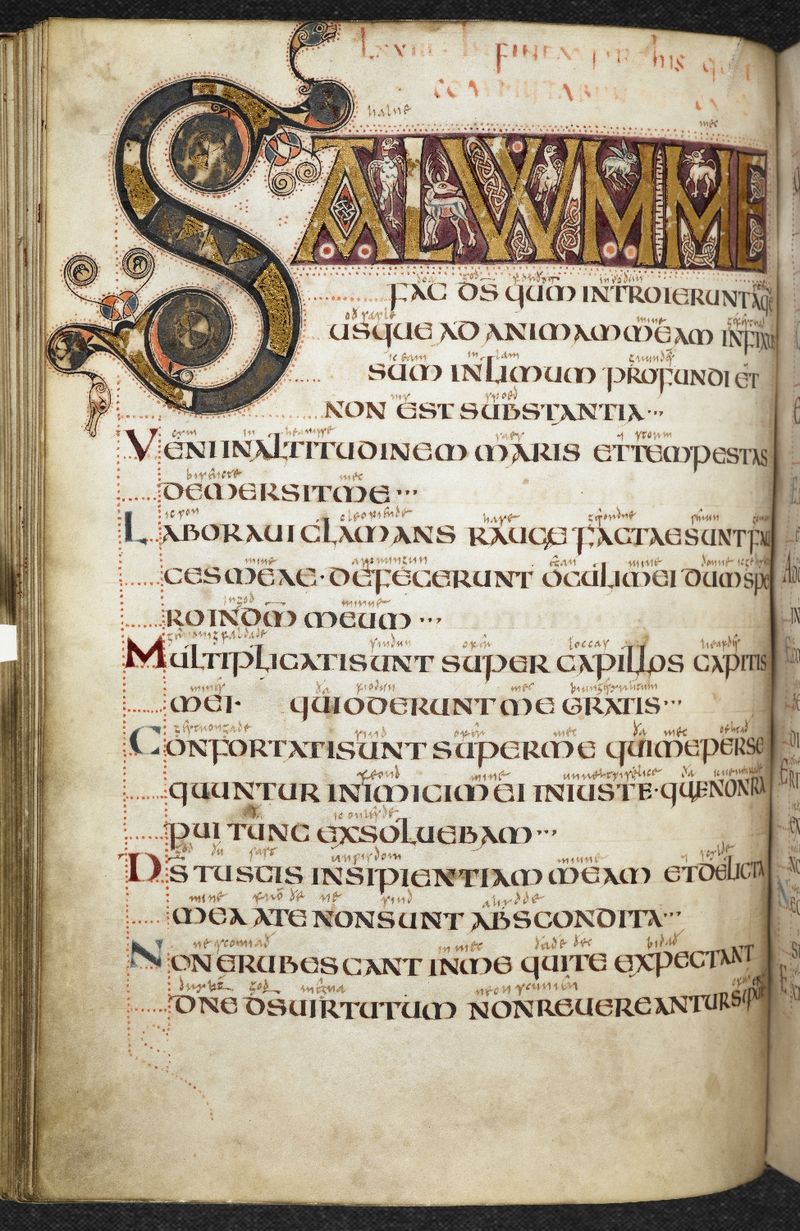 The opening of Psalm 68
('Salvum me fac')
from the Vespasian Psalter
A work of beauty from the Medieval manuscripts blog on the
Vespasian Psalter
.
Via A. Riddle,
Behind the Scenes of the Old Testament
, Cultural, Social, and Historical Contexts, edited by Jonathan S. Greer, John W. Hilber, and John H. Walton.
Via Jim Davila, a review of
Septuaginta, a reader's edition
. Brian Davidson gives an example from
Exodus 32
.
Claude Mariottini reports on
the lost tribe of Manasseh
and a follow up on the
northern deportation
.
NT
we subject ourselves to everyone's censure,
Via Jim Davila,
Gospels before the book
.
What, Me Worry? Phil Long on
The birds and the grass
(now legal in Canada).
Jesus and the Synagogue
, Bosco Peters on Liturgy.
Michael Bird on
Rachel Held Evans and the Canaanite woman
.
James Tissot (French, 1836-1902).
Jésus dans la synagogue déroule le livre)
Paul Anderson on
Anti-Semitism and Religious Violence as False Interpretations of the Gospel of John
.
An interesting
inscription from Nazareth
in a book about Wilhelm Froehner, a colleague of Ernest Renan. Via
Jim Davila
.
Larry Hurtado on the wild theory of
textual transmission of the Gospels
and on
Saul as Persecutor and Jewish Tolerance of Diversity
. And a dialogue
here
on God's Library.
Robin Jensen considers the image of the
cross in history
.
Andrew Perriman on
Why did the Jews accuse Jesus of making himself equal to God
. And again citing McGrath and Barrett on the use of
I am
in
John
.
Wayne Coppins reviews the action at SBL on Frei's,
The Glory of the Crucified One,
and adds some missing comments on his favorite parts as co-translator particularly as regards the implications for Christology in John.
Ring found with Pilatus inscribed
note by James McGrath and
Todd Bolen
.
Additional comment
from Jim Davila.
Lena Einhorn posted a video (from SBL 2012) on a
time-shift between the Gospels and Josephus
.
Spencer Robinson works through Schreiner's
Romans
.
Issue 5 of
JJMJS
is available, all on
Paul, Judaism, and the Jewish People
. Including Matthew Thiessen's riff on Jon Lennon's
Imagine,
also several scholars on personal callings and conflicts with interpretive schools.
Tim Bulkeley has a very short 50th anniversary note
here
.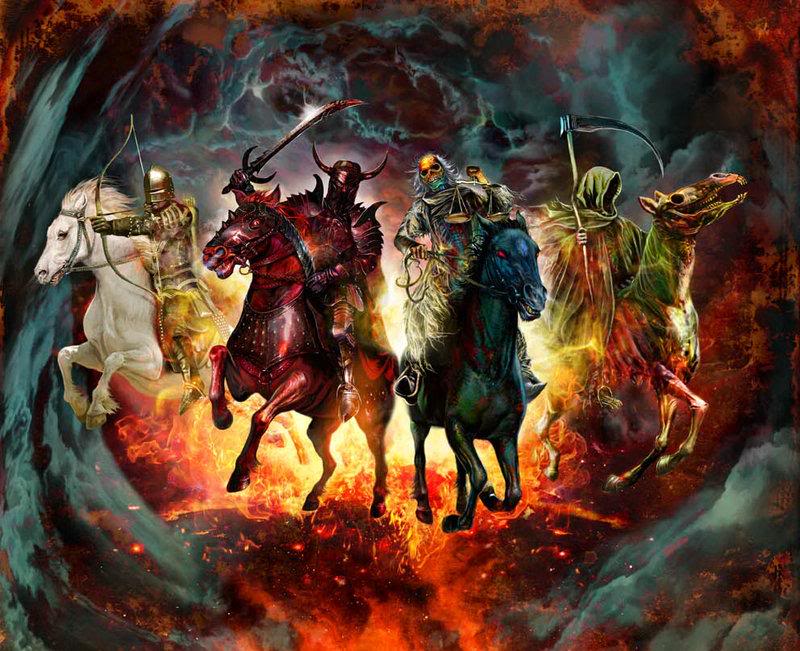 The 4 horsemen
Henry Neufeld on
Romans 9-11
concerning human wiggle room, (a.k.a. free will), and foreknowledge vs 'a reasonable amount of ordinary knowledge for a deity'.
d. miller on
family practice, the holy kiss
.
Marg Mowczco on
1 Timothy
, a critique of the ESV Study Bible notes. And on ministry titles in
1 Corinthians 16:16
.
Mike Bird interviews Jörg Frei on
Jude and 2 Peter
, a glimpse into the difficult history of the Biblical canon.
Richard Fellows comments on
Jerome's list of New Testament
proper names.
Narrative, subtlety, and urgency
in the Alpha and the Omega, political eschatology in Revelation.
Ian Paul on
Conspiracy theory and the book of Revelation
.
Greg Jenks on
amber and red lights
, reviewing N.T. Wright.
Your host has been influenced this month by this research for the carnival, so much so that he formed a last post of the month on
how to form a reading strategy for the New Testament
.
Other things
and happy is he that is least tossed upon tongues;
Part of an ancient computer
Larry Hurtado on Evans JBL 136.4 (2017): 749-64
about over-emphasis on a performance model
of the use of Scripture. Also on
silent reading in Roman antiquity
.
More abstracts (prior to the pay wall) are available on performance criticism
here
in the Oral History Journal of South-Africa.
An
interview
with Steve Walton, Paul Trebilco, and David Gill on their collection of essays,
The Urban World and the First Christians
.
Here's a nice technique of mouse over magnification and detailed analysis
Taylor-schechter-genizah-research-unit...fragment-8
.
Centre for the study of New Testament Manuscripts has digitized
Codex Koridethi
.
Ancient technology
outlined by Airtonjo. More on it from Livius Drusus
here
and via Jim Davila
here
.
Modern technology will get you to the
Hebrew alphabet classes
in Seoul. The video is quite cute.
Ian Paul issued
a note on Facebook
worthy of the political theme noted this month. A whole raft of Anglicans had a conversation on Twitter about
the least of these
and with more on the early teachers in Christendom on
the least
.
Sefaria has released two dictionaries online
A Dictionary of the Targumim, Talmud Babli and Yerushalmi, and the Midrashic Literature by Marcus Jastrow
and
A Comprehensive Etymological Dictionary of the Hebrew Language for Readers of English by Ernest Klein.
Tim Bulkeley notes a free Biblical Archaeology course from Bar Ilan University
here
. There's probably time before
the end of the world
. Via
Drew Longacre
, National Geographic has an article on
the cloak and dagger search for sacred tests
. Jim Davila points to an article on
reading obituaries in ancient Judah
.
Hand from Tomb 2.
Photo by Jeremy Smoak
While searching for a secured image of the hand in that article on obits, I accidentally discovered this November article in Chinese,
十個關於早期基督教出乎意料的事實
Ten unexpected facts about early Christianity
copied from an article a few months earlier in English and showing how scholars are quoted in or out of context around the world by Facebook, Blogger, and
Google+
. It would seem that the English speaking world of Biblical Studies has limited contact with similar studies in other cultures.
ulb Münster has several
bibles online
including the Complutensian Polyglot, Erasmus, Bengel, Wettstein, Griesbach, Tregelles, Westcott and Hort, Nestle, and others, all free to download.
Africa Journal of Evangelical Theology is now online from 1982-2012 as noted
here
.
Jean Lipman-Blumen has a reflection on
toxic
, the word of the year.
A final note from Religion and Politics on
Eugene Peterson and the Imperative of Biblical Literacy
.
Next Carnivals
So hard a thing it is to please all,
Local storefront near Oak Bay junction, a study in culture
What comes after 153? Advent. Dale Brueggemann has an Advent series planned that might interest some of you. Post is
here
.
Christopher Scott
(@ChristopherLS) will be hosting the December 2018 carnival CLIV (due January 1, 2019).
Please email (plong42 at gmail.com) or direct message on Twitter (@plong42) to volunteer for a 2019 carnival. Phil has thrown down the gauntlet.
Hosting a carnival is a valuable task.
You will be challenged to decide what to include from the several possible source streams that you follow on aggregators, flipboards, social media, blogs, and other news feeds. Just what is Biblical Studies? BS opens up questions that may be disturbing to an established position. Do you follow people that you may disagree with? You may allow some leeway since preachers and theologians of all confessional stripes say they 'study the Bible'. And you may watch secular blogs and newspapers, for some of them express reception history, whether assumed or critical, from the Bible. As the month progresses, a theme emerges, maybe flippant or serious, not always as expected.
Take up the gauntlet.
1

From CRASSH on The Imaginative Landscapes of Islamist Politics.
2

Source of the right justified commentary, http://www.ccel.org/bible/kjv/preface/pref1.htm