Biblical Studies Carnival # 173,
An odd, deficient, odious, but balanced prime.*
July 2020.
I, your host, did a
carnival
in February of this year just around Mardi Gras. I closed that carnival with the Quartet for the End of Time. Little did we know what was coming our way, though we had seen early warning signs. Let this carnival be heralding the beginning of the end of the disaster that is upon us. Let it be that we realize how critical is our support of each other, our 'mutual responsibility and interdependence', and how foolish is the thought, and all its attendant actions, that freedom belongs to the individual at the expense of the whole body.
Fun? Enjoyment? Carnival atmosphere? Gaiety? Song and Dance? Unlikely, but let's see if some Immersive Distraction is worth the try.
Tanakh.
Michael Avioz writes on
translation of place names
in Targum Onkelos which
... became so popular in Babylonian rabbinic circles that the Babylonian Talmud requires Jews to read it every week together with the weekly portion, in the law known as שניים מקרא ואחד תרגום, "[read] scripture twice and the translation once" (b. Ber. 8a).
Hagar
Ariel Kopilovitz explores through a review of the
war against Midian
how the priestly Torah was compiled.
Abdulla Galadari explores the intertextual connections of the
Quran with the Shema
.
David Ben-Gad HaCohen explores
the region of Ar-Moab
.
The Velveteen Rabbi comments on man, woman, and vows in
parashat Matot
.
Nyasha Junior
reimagines Hagar
in her book on
Blackness and the Bible
.
Lawrence Hoffman sends an
open letter to his students
outlining 5 valuable principles to be learned from 'tradition' and putting them in the context of Amalek and the current stresses on social order.
Thirty years ago, while researching an article on the subject, I asked my teacher and colleague, the late Harry M. Orlinsky, to define "tradition" and he replied, "Tradition is just a lie going back at least a century."
Your host continues to dig into the music embedded in the text of the Hebrew Bible. Here is an English arrangement and a
Hebrew performance
of
Genesis 22
.
On the governance of the Body, Pete Ens begins the month with
using the Bible to support
...
The stories of Israelite kings match the Trump presidency remarkably well. And the condemnation of their actions by biblical authors is persistent to the point of being tedious.
Elkanah and his wives (I Samuel)
Laura Quick considers the bed of
Og the King of Bashan
. (Remembering
Remnants of Giants
, last seen in 2019.)
The
Medieval Manuscripts blog
shows some Old Testament passages from the Rochester Bible.
Francis Landy introduces the
Prologue to Deutero-Isaiah
.
The seven Sabbaths following Tisha B'Av, the fast day commemorating the destruction of the First and Second Temple, are known as שבעה/שב דנחמתא "the seven [Sabbaths] of Consolation." All the haftarot are taken from Isaiah 40-66, the work of an anonymous exilic prophet (or prophets), who expresses hope for the future rebuilding of Judea and repatriation of its people.
Doug Chaplin gives us a draft prayer card inspired by Jeremiah 12:1 as used by
Gerard Manley Hopkins, in his poem "send my roots rain"
.
Jim Gordon
continues
his poetry series with
A poem for the Sabbath
, by Wendell Berry, a little different from Psalm 92.
Carmen Joy Imes
praises the laments
and imprecatory Psalms.
Mark Whiting writes on penitential wisdom in
the penitential psalms
.
The Hebrew versions of the five poems in the book of Lamentations are riddled with debated readings... It's not very often that
Lamentations as poetry gets a mention
.
A real rabbi now with greying whiskers, and also a poet, Rachel Barenblat, teaches about feelings in this time of destruction as the period of
approach to Tisha B'av
.
I'm finding it difficult to face Tisha b'Av this year, in part because every time I read the newspaper feels like Tisha b'Av. There's mourning and grief and loss everywhere I look.
Ah in such solitude sits the city. Abundant with people she is as a widow.
Abundant from the nations, noble among the provinces, she is into forced service.
Andrew Perriman continues a four year conversation on redefining
Daniel
.
Is there a Unity amidst this diversity
. A question by Anthony Ferguson on the state of the text of the Old Testament.
I am going to discuss the non-aligned manuscripts. I hope to show that these manuscripts are largely secondary and dependent on an MT-like text.
Hebrew language: Your host is beginning a series on explaining the transformation of pointed text into 'spelling lacking niqqud'
here
and
here
.
Slave
Jonathan Orr-Stav
addresses the difficulties of rendering the cantillation in standard characters.
In these days of deception, you might enjoy this note on
clothing
from David Curwin of Balashon.
Archaeology: Jim Davila links to a report on
seals
that may show more about the gradual resettlement and bureaucracy in Jerusalem after its destruction in 586 BCE. He also points out a deep excavation
under Jerusalem
.
Matthew Susnow explores the ancient temples with an essay on
What is a 'House of a God'?
Airton José da Silva links to articles on the administrative storage centre from the time of
Hezekiah and Manasseh
.
Ian Paul offers an essay on '
good
'.
for all the wondrous joy of this claim about goodness, Genesis 1 chooses not to say 'it was perfect'.
Canonical Edges
James McGrath reports from day 2 of the
Enoch Seminar on the origins of evil
.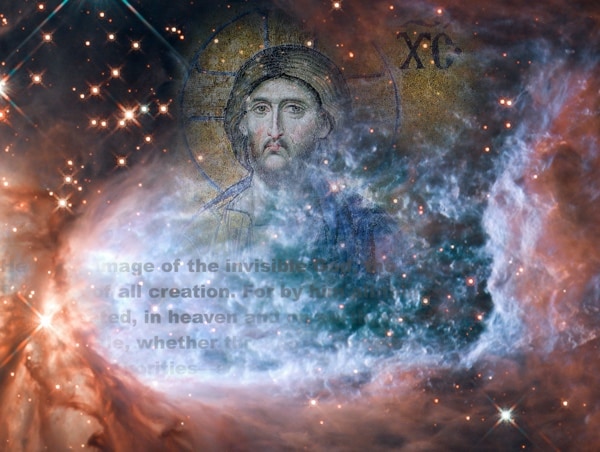 Cosmic
Day 3 continues
here
and
here
from Jim Davila. Day 4
concludes
with a
response from Jim Davila
and a plug for
1 Enoch as Christian Scripture
.
In James McGrath's report we read of:
degeneration of the generations, i.e. that evil doesn't come into the world in one fell swoop but gradually over time, and involved(s) groups rather than individuals,
James Tabor reflects on the good and
the ugly
.
Andrew Perriman draws us into
cosmic thinking
and then back to political reality.
If you are hungry, watch this.
Making 2000 year old bread
. Absolutely marvelous technique.
New Testament
Having mentioned targum for Tanakh, I am reminded of targuman. Christian Brady is now very active in parish work, and posts on
drinking the cup
.
Timothy Lewis asks
why some mothers are included and not others in Matthew's first chapter.
Bosco Peters continues his Matthew in Slow Motion,
Episode 33
.
Ian Paul writes on the lectionary and
the parable of the sower
.
Jim Gordon writes on
invincible ignorance
.
"I don't know how to explain to you that you should care for other people." (Dr Anthony Fauci)
Marg Mowczko meditates on
meekness
in warhorses.
Sickle
In an essay on John as
the mundane gospel
, Paul Anderson demonstrates now much mundane detail is in John's Gospel.
Trinities posts a p
odcast with Daniel Boyarin
on the prologue to John's gospel.
Christopher Page continues a series of posts,
#86
, (and counting) on living with Jesus through the words of John's Gospel.
Michael Bird cites Harold Attridge on the
beloved disciple
.
Adele Reinhartz vs. Chris Keith and James Crossley
, an online discussion of her book addressing the thesis of Lou Martyn on 'being cast out of the covenant'.
Gary Greenberg posts on the
case for a proto-gospel and the healing of a blind man in Bethsaida
. (via FB and Dr Johnson Thomaskutty.
And here is a lecture on the
signs in the gospel of John
from the Church of South India.
Jason Staples writes on '
Reconstituting Israel: Restoration Eschatology in Early Judaism and Paul's Gentile Mission.
'. Second installment
here
.
Andrew Perriman puts
glossolalia
into a historical framework that "Jerusalem faces a catastrophic judgment".
The gift of speaking in other tongues signifies the extension of Joel's prophecy beyond geographical Israel to include all Jews who looked to Jerusalem as the centre of their religious life and practice. The city and its spectacular temple would soon be destroyed.
Eyal Regev asks if
Christians mourned
the destruction of the temple.
And if you have forgotten what
prosopological
means,
here's a reminder
.
James Tabor reminds us with a paper from the 1980s about Paul's words on
apotheosis
.
Christopher Page seems to double this thought with his mid-month
100th pandemic post
on Jesus.
And to continue the subject, Ian Paul asks what
to think of AI
. (Homo Deus?)
What's in the translator's choices of gloss? Brent Niedergall posts on
temptation vs trial
.
Brian Small notes that Cyril's
lost commentary on Hebrews
has been found.
CSCO has a number of notes on the
Oxford Handbook of Pauline Studies
.
Phillip Long continues his series on Revelation with questions on '
the son of man
' and '
the harvests
' and '
the final visions
'.
James Tabor reflects on
washed in the blood of the lamb
.
For another take on Revelation as an orchestral score, and with respect to more recent historical contexts, see Ian Paul on
the present crisis
.
Derek Demars
argues that Revelation is a musical!
Miscellaneous
Family
Marc Goodacre teaches by example about
fatigue
... one can see an author making characteristic changes to a source at the beginning of a passage, only to lapse into the wording of the source later on.
Jim West has posted Larry Schiffman's lecture on the DSS
here
.
Airton José da Silva
announces
a new Bible.
Brazilian translation of the famous French "Traduction Oecuménique de la Bible" (TOB) (according to the 12th ed., 2010). It is the model of ecumenical translations, because of the interfaith composition of its collaborators and because it even adapts, for the Old Testament, the Jewish sequence of biblical books. It is an excellent study bible, with rich notes and many references of parallel texts.
And
here
is an insight into the culture of Biblical Studies in Brazil.
Brent Niedergall points to a paper
on the CBGM
as material for the upcoming virtual SBL annual meeting.
And for more on CBGM, see Brent Nongbri's article
here
.
The cosmologist Bishop of Rhode Island, Nicholas Knisely, expresses a hope that we can go beyond our self-images, on his blog,
Entangled States
. More than a little uncertainty in the referent in the blog name.
James McGrath writes on
Academic genealogies
.
Ken Schenck continues his review of
the works of his doctoral advisor, Jimmy Dunn
, finishing on
the twelfth day
.
Helen Bond
remembers Jimmy Dunn
.
James Tabor traces his history of
learning Greek from age 17 to 74
. This spring chicken explains how 'older is not better', and that Westcott and Hort are seen by some today as part of 'a "plot from hell" to destroy God's truth'. (See also a later version
here
.) This post on his '
first book
' is too good to pass up.
The first week of July presented several posts which seemed to be strong on issues peripherally related to the Bible, but grounded in the questions raised by our persistence with its content: So a note by Ian Paul on
the priesthood
(presbyter), running the risk of self-justification but showing the stuff of Cranmer, and on the
meaninglessness of life
in response to facing death, by Christopher Page, and on
manufacturing belief
, a documentary in which many famous appear, noted by Bart Ehrman. There is even a commentary by OUP on
being prepared
. Nicely juxtaposed is Phillip Long's note for the day on
the winepress
.
Bart Ehrman has a guest post by Cavan Concannon on the
Bible Museum
. Not to be outdone, Tyndale house is starting a new podcast series on
Trusting the Bible
.
Westar Think Tank Fellow, Terrence Dean interviews Nontombi Naomi Tutu:
Five current questions
.
On issues of gender in Biblical Studies, note this discussion with the title, Sarah Rollens and Candida Moss vs Chris Keith
here
.
Books
In a study that is both poignant and provocative, Levison takes readers back five hundred years before Jesus, where he discovers history's first grasp of the Holy Spirit as a personal agent. The prophet Haggai and the author of Isaiah 56–66, in their search for ways to grapple with the tragic events of exile and to articulate hope for the future, took up old exodus traditions of divine agents―pillars of fire, an angel, God's own presence―and fused them with belief in God's Spirit. ... Like most (if not all?) good New Testament ideas, the Old Testament got there first.
Unavoidable
In Memoriam: Alister McGrath has written an obituary for
James Packer
, certainly a man of some influence and who was known by many in the far west of Canada including former blogger, Suzanne McCarthy most recently of
BLT, not just a sandwich
. (I knew I could get a bit more poetry in this carnival somehow. I'd rather have good poetry than
bad tattoos
with lots of ads any day.) ... August is coming up, not April, that cruelest month ...
Next Carnivals
Phil is always looking for volunteers. Fun or not, spending a month actually reading the bloggy scholars and the scholarly blogs is an education... Occasionally, people actually suggest posts too. Chris Brady began the month with a post comparing
Facebook to the old blogging community
with vigorous discussion of issues in the comments and among the blogs. He also announces the upcoming
virtual SBL
.
* Footnote: (For the
numerologists
.)