This is The Biblical Studies Carnival 3x7x2
3
completing 168 monthly editions since the inaugural BS carnival 180 months ago
,
music, poetry, art in celebration of those studying the ancient texts.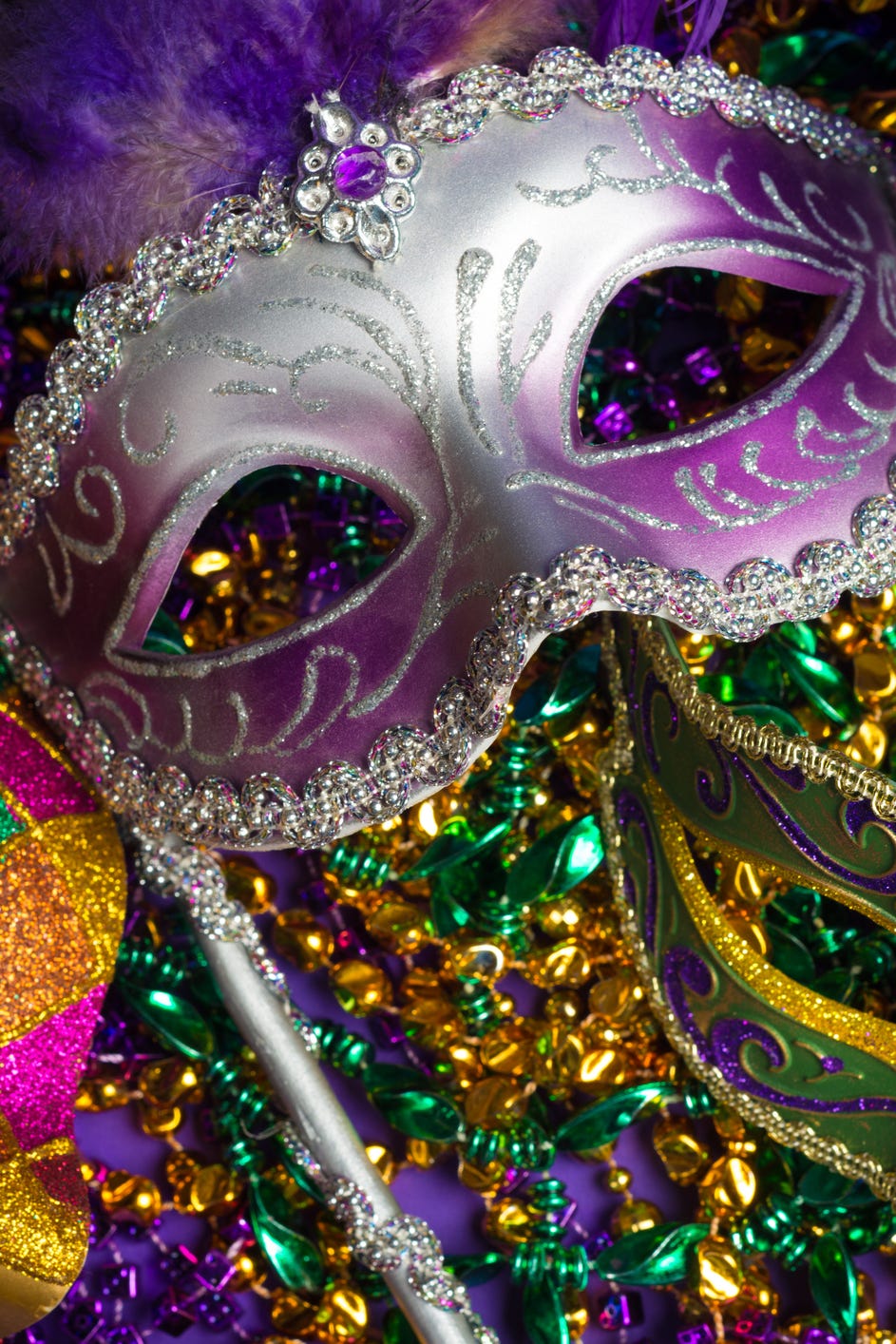 Official colours of Mardi Gras
The Krewe of TNK
The head of the first parade is Deane Galbraith presenting Marc Zvi Brettler's
lecture on Jewish Biblical Scholarship
.
Torah
Laurent Sangpo gives us a 5 minute reception history on
Le Déluge de Michel-Ange
."...il suit ainsi l'exégèse ancienne, qui voyait dans la catastrophe la représentation symbolique de notre monde."
Mark Leuchter and Zev Farber describe the relationship of the siblings,
Moses, Miriam, and Aaron
, "partners of similar standing in redeeming the people".
Carol Meyers asks
Who wrote the song
?
Athalya Brenner-Idan has updated an essay from 2016,
Are female readers included in the Decalogue?
Sandra Jacobs writes on
Exodus 21:22-25: Accidental Injuries in a Public Brawl
, 3 interpretations of the degree and type of compensation required.
A d'varling from the
Velveteen Rabbi
, "if you keep making that face, you'll get stuck that way."
Prophets
Pete Enns brings up
the violence against the Canaanites
.
Aaron Koller writes on
Composing the Song of Deborah
, "here we have two empirical models with clear parallels to the biblical Song of Deborah, and both are well attested and fairly well understood."
Judges 5:2 (The whole song is here.)
Saul was Tall
by Brian Doak, Bodies speak ... Solomon has no body of significance. ... Hezekiah possesses no beauty... Josiah is a complete ghost.
Brant Pitre introduces the lessons for the Presentation in the Temple with particular emphasis on
Malachi and the Twelve
.
Writings
... A symphony of voices
A hole in the parchment,
through which the word 'gratiam' ('grace')
is visible
Kate Thomas presents a medieval manuscript
in praise of the Psalms
.
De laude psalmorum.
"This short Latin treatise explains why saying the Psalms was considered spiritually beneficial, and which Psalms were good for which purposes. It opens a window onto how medieval people understood one of the most important liturgical and devotional books of the Middle Ages, the Psalter."
Brent Niedergall posts on
a textual issue in Ruth
. "What if an English Bible translation translated a Hebrew word meaning 'he' as 'she'?"
Esther: Girls of marriageable age
in the ancient world were much younger
than brides today in the western world.
Marg Mowczko begins a series on
Esther
, and continues with a second post,
For such a time as this
. The girls "weren't volunteering for a wonderful opportunity. They weren't competing for a marvellous prize. Most may well have been taken against their will and against the hopes of their families who might never see their girls again."
Daniel became a writer
Phillip Long continues the unrolling of
Daniel
. "Belshazzar can look no worse, his mother publicly rebuking his cowardice! (Did she stop to comb his hair and tell him to tuck his shirt in as well?)" He must be nearly right through to
the end
- if that's not the end, it's close.
Daniel 5:25 - setting the words, the accents in their simplest form
Announced this month via the Times of Israel:
A 616-page codex that was written in 1028
.
Psalm 150 Karaite
An article with some images is available
here
from The Jewish Quarterly Review. "NEARLY A THOUSAND YEARS have passed since Zechariah Ben 'Anan finished the demanding work of copying Ketuvim (Writings), the third part of the Hebrew Bible, in a manuscript found by sheer happenstance on a dusty shelf in the Karaite synagogue of Cairo in late July 2017"
The tail of the Krewe of TNK
If it quacks...
A few goodies distributed to the people from this krewe may require a payment. But there's enough even if you can't get into the post-parade-party.
Bart Ehrman reviews a
Newly Discovered
gospel. "rarely does anyone actually discuss the actual *evidence*". His post reaches back into the archives.
Ekaterini G. Tsalampouni
points us to an article on the ending of Mark.
Jacob Prahlow completes his series on the
Odes of Solomon and the Gospel of John
.
James McGrath posts his impressions of the Enoch Seminar's dedicated session at AAR/SBL on Adele Reinhartz's book
Cast Out of the Covenant: Jews and Anti-Judaism in the Gospel of John
.
Johnson Thomaskutty writes on the
Characterization of Thomas in the fourth Gospel
.
Andrew Perriman writes in response to
Michael Bird
, on the
church and the mission of Jesus
. "Did they succeed? Fail? Or did someone move the goalposts?"
Ken Schenck points out his work on Mark and Acts as part of his project
Through the Bible in Ten Years
.
Richard Beck continues his series on the gospel according to the
Lord of the Rings
.
A Matthean Thunderbolt?
Ian Paul republished a post on the influence of
John on the synoptic gospels
, and explores a spoof on
choosing your own Jesus
. It being that time of the year, he also did a review of the
temptations of Jesus
.
Michael Pahl encourages following the
teaching on economics
from Jesus.
Jim Gordon would have us consider
ornitheology
. His series for Lent holds promise. Here is the
leap-day special
, the pearl.
Chuck Jones points out
Vizualizing Acts
, graphic online support for reading Acts.
Tim Gombis explores
chapters 2 to 5 of Romans
with particular reference to boasting.
Andrew Perriman posts on
theological prisons vs historical readings
of Romans.
Other Krewes
Great St Mary's,
the Selwyn Consort via
the Minerva Festival

Sarah MacDonald presents "

Silent in the Churches

", an exploration of Music in the liturgy by female composers.

NT Wright explains

penal substitution, 'according to the Scriptures'. And here's a C.R.A.S.S.H course on

explaining

.

Who knew that James McGrath was an

award winning Mandaic poet

?

Matt Page is still blogging about Bible films. Here is an entry on the Netflix

Messiah

.

Both

Bosco Peters

and

Airtonjo

have things to point out about

Querida Amazônia

.

John Bergsma on the

Sacred Page

lays out the lessons for the sixth Sunday in Ordinary Time.

Alex Finkelson at Scribes of the Kingdom wonders about the

promises to David

.

A slightly early entry for the

Revelation parade

from Doug Chaplin. (Ah well, February is a short month and January is long, so let's give them 30 days each this year... and he is still

writing occasionally

.)

Bart Ehrman has

some interesting questions from Buddhists

.

John Jillions writes on the

religious attitudes of some famous Roman skeptics

.

J

ournals and

R

eviews and other things

James McGrath points out a new open-access

Journal of Religious Competition in Antiquity

.

James also notes this announcement on

Women interpreting the Scripture through music and the arts.

Kelsi Morrison-Atkins reviews

Moshe Blidstein. Purity, Community, and Ritual in Early Christian Literature.

'Blidstein guides the reader through the "web of allusions" that characterized early Christian purity discourses in the first through third centuries.'

Noah Benjamin Bickart reviews Paula Fredricksen's

When Christians were Jews

. "If anything is missing in her excellent book, it is a more robust engagement with rabbinic texts."

Steve Walton notes a set of essays from a conference,

Healing and Exorcism in Second Temple Judaism and Early Christianity

.

Ben Witherington's book on Priscilla is reviewed by

Kelley Matthews

.

Bart Ehrman has a very nice

promotion of his book

, Heaven and Hell.
Fetch
Brent Niedergall is working with Bel and the Dragon on a Reddit reading group
here
.
Jim Davila points out Sonja Noll's book on the
Semantics of Silence in Biblical Hebrew
. And a collection of essays on
Parables
. "Essays cover parables in the synoptic Gospels, Rabbinic midrash, and parabolic tales and fables in the Babylonian Talmud. Three essays address parables in Islam and Buddhism." And Henk de Waard's
Jeremiah 52
, "Jeremiah 52 is not a mere appendix to the book, but a golah-oriented epilogue, indicating the contrasting destinies of pre-exilic Judah and the exilic community in Babylon."
Kerry Sonia reviews Shawn Flynn's
Children in Ancient Israel
Kathleen Gallagher Elkins reviews
The Bible and Feminism: Remapping the Field
.
BLT
reports on
Suzanne McCarthy's book as told to
James McGrath
by her sister Ruth Hayhoe.
Phil Long reviews
All Things New
, Revelation as canonical capstone, by Brian Tabb.
Remembering
Suzanne McCarthy 76 months ago reminded us of a
riddle related to time
.
Here is a
Sunday Superlatives
post from the same year, 2013, from Rachel Held Evans.
Jim Gordon
reminds us of the 75th anniversary of the death of Bonhoeffer.
The tail of the whole carnival is a reflection by Marc Zvi Brettler on the
106th yahrzeit
of S. R. Driver of whom, it is said:
He taught the faithful criticism and the critics faith.
Read Marc's article to find out who said this and more importantly, why.
And as a coda, this music, which as Matthew Larkin says, if you allow yourself the necessary time, "will leave you speechless".



N

ext

C

arnivals

Brent Niedergall

hosts in March 2020 (Due April 1). Phillip Long is looking for volunteers for the rest of 2020.

C

ontact him at plong42@gmail.com or twitter dm

@plong42

to volunteer to host!

----------

(1) The carnival number is an even number higher than 148, (June 2018 -

20 months ago

).

The number of this February carnival is the product of the first two perfect numbers, 6 and 28, and is also the count of primes less than 1000. There are 50 words in TNK with gematria = 168.

See also

.

(2) right hand side linked poetry snippets by James McGrath.